How to schedule a repair
I repair things like:
Shoes with broken heels, broken straps, soles falling off, tears, scratches, dirt & stains
Ripped, scratched or otherwise damaged leather accessories and clothing
Any other small or soft item like jewelry, stuffed animals, cushions, etc
If it fits on my desk, I can fix it. Email me ([email protected]) or message me on Instagram @shoesbysua for a consultation.
Repair services are only available in Los Angeles, CA and by appointment only.
How to request a customization
You can get customizations like:
Illustrative artwork and touch up painting on shoes, leather & vinyl
Ornamental and/or functional add-ons to existing shoes, like a strap or platform
Custom leather appliques, inlays & overlay designs on patches or directly on garments
Completely custom shoes, bags & leather garments from scratch
Tell me your ideas via email ([email protected]) or message me on Instagram @shoesbysua.
🪡 $30 USD and up for repairs & patches
🎨 $100-$300 USD for paint jobs
🧱 $300-3,000 for custom one-offs
Prices are roughly based on $30/hr for my labor + cost of material.
Work trades accepted in excess of $300.
Shoe repairs may be done for free if you are in need beyond your means, and non-every day shoes are imperitive for you to secure $. (ex: dancing shoes)
Prices for customs may be reduced down to minimum cost of materials if you are going through crowdfunding for life-affirming services.
Pricing is subject to change without notice. I am happy to continue discussing fair modes of pricing labor & goods.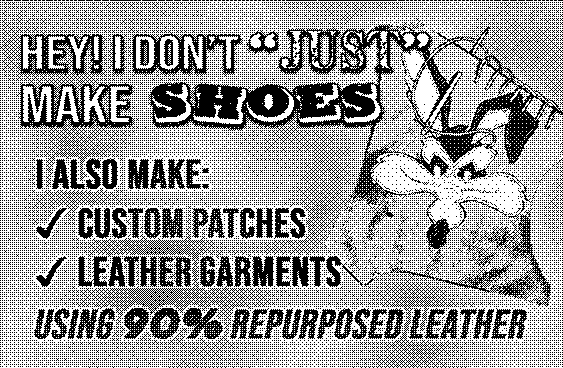 Interested in DIY shoemaking?
Follow me on TikTok @shoesbysua for at-home shoemaking tips and tutorials.
I also have a hectic in-progress DIY shoemaking (heels) guide that I'll try to keep updated (best viewed on desktop.)